Editorial
, Volume: 9( 3) DOI: 10.37532/2320-6756.2021.9(3).208
8th Conference on Theoretical and Applied Physics November 15-16, 2021 Madrid, Spain Glimpse of all the topics of Applied Physics
*Correspondence:
Received: Febrauary 02 ,2021; Accepted: Febrauary 16 ,2021; Published: Febrauary 24 ,2021
Citation: Amora Evans, 8th Conference on Theoretical and Applied Physics November 15-16, 2021 Madrid, Spain Glimpse of all the topics of Applied Physics. J Phys Astron.2021;9(3): 208
Abstract
Conference Announcement
Physics intersects with numerous interdisciplinary territories of research such as Astrophysics, Semiconductors Device, Spintronics, Condensed Matter Physics and others. New thoughts in Physics frequently clarify the essential components of other sciences while opening new avenues of research. It aims to support global research communities, by empowering clusters of scientists to regularly meet and discuss topics with front runners in the field. Applied physics is focused on technology which commonly considered as a connection in physics. Applied physics based on basic concepts of the physical sciences, but the utilization of scientific principles in practical devices and systems are really concerned.
Conference highlights
• Quantum Field Theory
• Unconventional Superconductivity
• Many-Body Systems
•Semiconductor Devices
• Graphene and its Applications
• Spintronics
• Nanophotonics & Nanodevices
Market Research
Applied Physics is intended for technical and practical use. Applied Physics is established in the basic certainties and essential ideas of the Physical sciences and it utilizes the scientific principles in practical devices and in other related areas such as Lasers, Optics, Semiconductor devices and Nano photonics. Demand for Physics is always there in the market because of its applications.
Quantum Dots
The Quantum Dots Market is estimated to grow from USD 2.0 billion in 2017 to USD 8.5 billion by 2023, growing at a CAGR of 27.0% during the forecast period. The factors that will drive the QD market are the increasing demand for quantum dots in high quality display devices, rising adoption of energy efficient and less toxic quantum dots in solar cell and photovoltaics, and the growing application of quantum dots in numerous application due to miniature size.
Nanotechnology
BCC research review report which was published in 2014 covers advanced topics like quantum dots, nanotechnology, ceramics, nanocomposites and nanofiltration. The global market for nanophotonic devices s projected to grow from more than $1.8 billion in 2010 and around $2.5 billion in 2011 to $10.9 billion in 2016 with a CAGR of 34.8% during 2011 to 2016.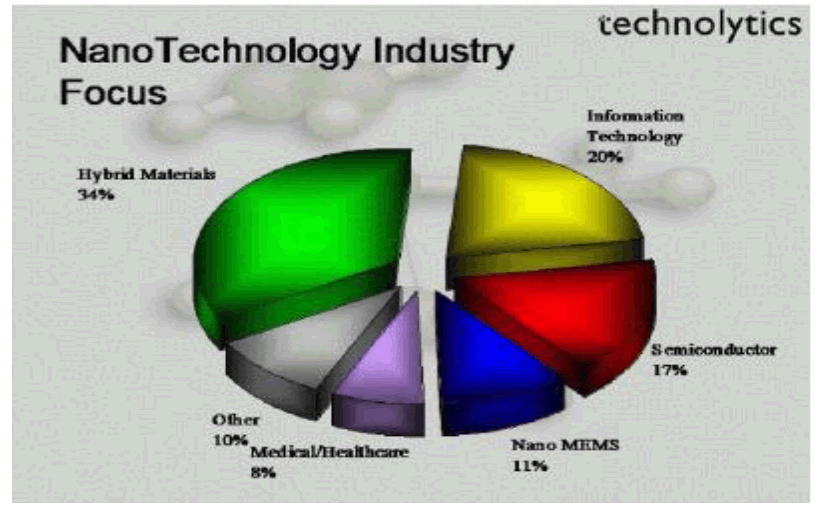 Photonics
The global market for Photonic sensors and detectors was $6.3 billion in 2013. This market is projected to grow from nearly $7.3 billion in 2014 to about $15.2 billion in 2019, by registering a CAGR of 15.9% during a period from 2014-2019. Photonic integrated Circuit (IC) technology global market has reached $165.3 million in 2012. This market is projected to increase to $206.5 million in 2013 and $866.4 million in 2018 with a CAGR of 33.2% from 2013 to 2018.